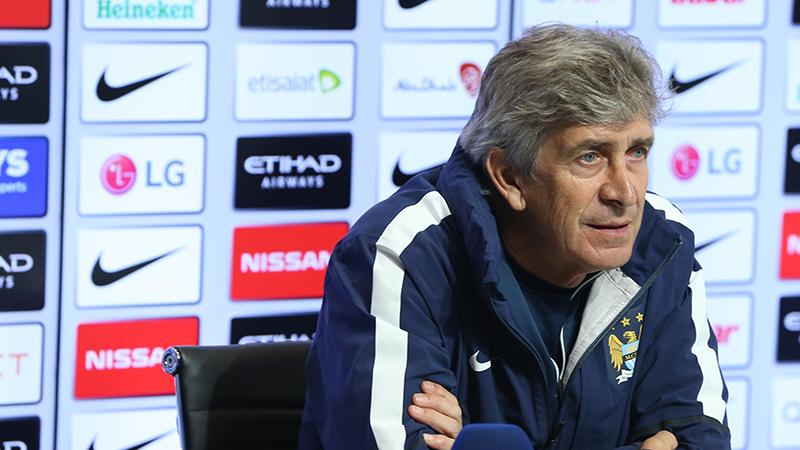 Manuel Pellegrini remains intent on signing off the season with a win
Manchester City will finish their 2014/15 Barclays Premier League campaign, which has seen them relinquish their title to Chelsea, with a home game against Southampton on Sunday.
The Sky Blues have secured second place ahead of Arsenal and Manchester United in the league standings, by winning their last five league fixtures on the trot.
They were ran close in a couple of games by Tottenham Hotspur and Swansea City – both away from home – but a determined Manuel Pellegrini's side made sure that they worked hard out of possession and were clinical in attack, to secure three points on both those occasions.
City, otherwise, registered comfortable victories over West Ham United and Queens Park Rangers (QPR) at the Etihad Stadium, where they also overcame an assertive Aston Villa side that was close to holding the hosts for a point, at least.
It has been an important turnaround for the Cityzens, who, at one stage in April, looked likely to not even qualify for next season's UEFA Champions League.
Having secured the runner-up spot, as well as automatic qualification for the group stages of the Champions League next season, should Pellegrini experiment, and inject a few youth players in his starting lineup for Sunday's clash against Ronald Koeman's Saints?
Read on…
City's season was virtually over after they suffered defeats to Barcelona in the Champions League and Liverpool in the Premier League, in back-to-back games during the late February and early March period.
The atmosphere inside the Etihad, consequently, hasn't been at its raucous best for a good three months now and the City faithful are already looking for a fresh start next season.
The City supporters, however, have taken great delight in their club finishing above Manchester United for the second consecutive season, with Louis van Gaal's men losing 75% of their games (4) since inflicting a 2-4 derby defeat on City in April.
The Etihad outfit has also played a coruscating brand of football, which has been missing for much of this season, lately, going onto score 16 goals during their current 5-game winning run, compared to just 9 in the previous 6 league fixtures.
One of the factors Pellegrini needs to consider if he is keen on experimenting with his starting lineup is that City will be playing at home against Southampton, a game for which the tickets have been sold out, and it, therefore, almost becomes an obligation to give the club's fanatics a good send off.
The Chilean, in his final pre-match press conference of the season yesterday, said that "Second is finished but the season isn't. We must try to win for our fans, to play well and give a good farewell to the season", indicating his single-mindedness in wanting to finish the season on a winning note.
PELLEGRINI: Second is finished but the season isn't. We must try to win for our fans, to play well and to give a good farewell to the season

— Manchester City FC (@MCFC) May 22, 2015
That statement of his makes sense too, because City, unlike Jose Mourinho's side, haven't had a great season, and it can only be a good thing to finish the season with as many points to your name as possible.
The Chilean also has to be cautious in the way he bloods in youth to his squad, which has been one of his virtues as a City manager, because ideally, he doesn't want the youngsters to feature in a game and lose confidence on themselves because of a poor performance or something.
In addition, the starlets seem a little light-weight compared to the likes of a Jordan Ibe or Ruben Loftus-Cheek, players who have graced the Premier League this season for Liverpool and Chelsea, respectively.
The caliber of the opposition also needs to be taken into account, and from that point of view, City will need to play their full-strength side in order to overcome Sunday's visitors.
On the flip side of the coin, however, there can be no better stage for Pellegrini than Sunday, when he could inject a couple of youth players to his side's starting lineup, and thereby squash any lingering doubts over his supposed lack of faith in City's academy and EDS players.
Players like Kelechi Iheanacho and Jose Angel Pozo, who has already appeared for City in three league fixtures this season, could be given a chance to feature this Sunday, when there is absolutely nothing to lose or gain, at least from the home side's perspective.
It will be an important step, as Pellegrini often puts it during his interviews, in the Chilean's reign as City manager, who will need to have a few youth options up his sleeve ahead of the next season, when he will once again be under pressure to deliver silverware.
But going by his thoughts in the presser yesterday, Pellegrini sounds to be in no mood whatsoever to take a gamble, and put himself under pressure if something goes wrong.
Final Thought
It is important for City and Pellegrini to secure three points on Sunday, and ensure that they finish the season on a very good note.
Therefore, it would be good for City and their supporters if the former Malaga manager sticks with the lineup that has delivered results over the last month, and makes sure of the victory first.
This talk of experimentation can wait, at least until three points against Southampton are assured.